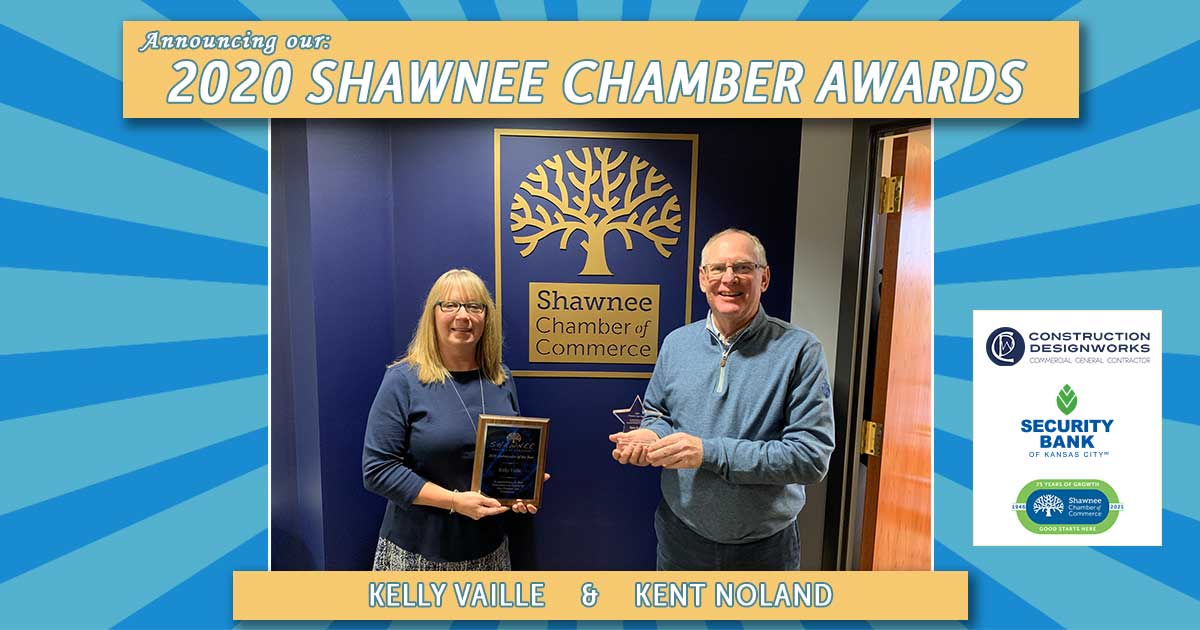 Each year the Chamber gives away three awards to honor different member representatives and Shawnee citizens who make an impact in our organization and city. Specifically, the Shawnee Chamber announces its Chamber Star and Ambassador of the Year at its traditional December/Holiday Membership event and announces its Citizen of the Year Award at its Annual Dinner.
Since 2020 was a remarkably unique year and greatly affected our standard programming, we shifted our Award announcements to a new schedule for 2021. This year we will announce our 2020 Shawnee Citizen of the Year Award at our 75th Anniversary Celebration.
We also announced our 2020 Chamber Star and Volunteer of the Year Award recipients during our virtual Annual Meeting Program on January 28th, 2021. You can find this live announcement in the YouTube video below at the ~8:50 minute mark.
Scroll down to see both this video and to read the special award announcements and questionnaires!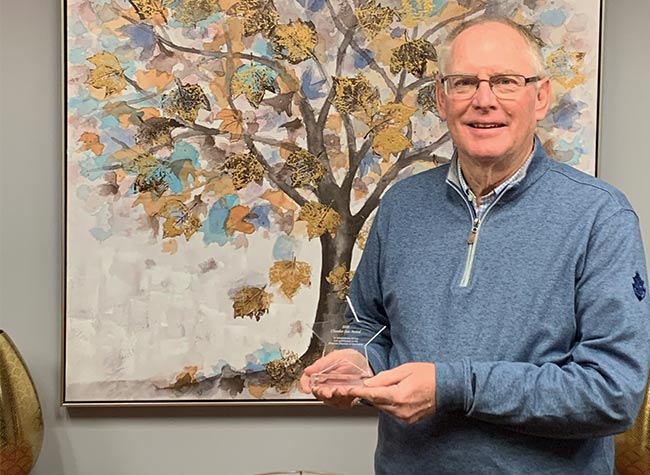 Congratulations to Kent Noland - 2020 Chamber Star!  
Kent Noland of Security Bank Kansas City is our 2020 Chamber Star of the Year! Kent's willingness to help, consistent involvement, positive attitude, and helpful suggestions have all greatly impacted the Shawnee Chamber through his time being involved. He is particularly passionate about the Shawnee Chamber Golf Tournament as a member of Lake Quivira Country Club himself and an avid golfer.
Thank you, Kent for all you've done for the Shawnee Chamber. Check out a short Q&A with Kent:
What is your favorite memory regarding a member or staff person at the Chamber?
Kent: Not long ago, I was frantically emailing and texting Brandon that I couldn't get on a Zoom call, I could not for the life of me figure out what the problem was. Brandon responded very politely that the call was scheduled for the next day. He hasn't said anything, but I'm sure he's still shaking his head.
What would you say to any new member to get them excited about joining the Shawnee Chamber?
Kent: Think about how much time, effort and money you would spend to be able to tell your story to 10, 20, 30 or more people? The chamber offers you numerous opportunities to put yourself and your business in front of other folks who actually want to meet you. It gives you the chance to participate in local events and learn about other businesses in the community. People like to do business with people they know. And I can tell you the Chamber staff are a tremendous resource to get answers to a variety of issues you may face as you try to grow your business.
What's an ideal evening in Shawnee look like for you? What would your itinerary be?
For me, I would start with a cocktail at Drastic Measures in downtown Shawnee. Then walk over to Transport Brewery to enjoy a couple of their delicious beers with friends before heading out to dinner at a long-time favorite restaurant in Shawnee, Paulo & Bill. Since we're saying it's the ideal evening, we'd end up at The Roxy to listen to some great live music.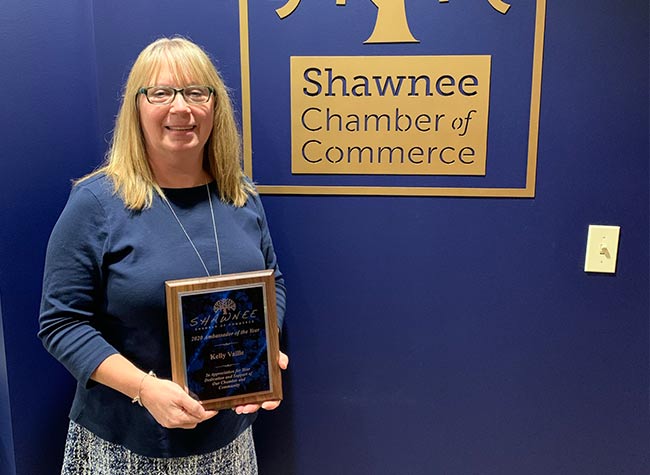 Congratulations to Kelly Vaille - 2020 Ambassador of the Year!
Kelly Vaille of Construction DesignWorks is our 2020 Volunteer of the Year! Kelly has been involved in the Shawnee Chamber since 2015 and has been involved in numerous programs including the Total Resource Campaign, Shawnee Tomorrow Leadership Program, and of course, Ambassadors! Kelly doesn't limit her involvement there, she is also a member of Rotary International too. Kelly is known for her welcoming spirit and her commitment to the Shawnee community!
Thank you, Kelly for all you've done for the Shawnee Chamber.  Check out a short Q&A with Kelly:
What's your favorite regular event the Shawnee Chamber does?
Kelly: I love the Business after Hours, it's just a great way to wind down the day, catch up with people you may not see often, and learn about someone's business in a more relaxed atmosphere.
How has the Shawnee Chamber helped your networking and/or personal business growth?
Kelly: Many of the members of the Chamber are also involved in other community projects or networking clubs and knowing that even though they may not be "the person" that can solve your problem they can usually put you in touch with someone that can, be it for service or donations or unknowingly connecting you to a friend.
What's an ideal evening in Shawnee look like for you? What would your itinerary be?
Pre/Post-Pandemic an ideal weeknight evening out for me would probably be Happy Hour at Paulo and Bill's or Transport Brewery with Friends. Weekend would be breakfast treats at McLain's Bakery and then send my hubby for a shave at Officially Chopped early in the day, dinner at Wandering Vine, attend an event at the Aztec Theater and then a night cap at Drastic Measures.
More Chamber Blog Posts...