Shawnee Tomorrow is a community leadership development program with a goal to continuously develop individuals with the willingness, desire and capabilities to assume leadership roles within the Shawnee community, Johnson County and the State of Kansas and beyond.
Originally started by the Chamber in 1989, the program provides:
A unique opportunity to gain access to top business, civic and community leaders who play integral roles in the region
A behind-the-scenes view of the processes, programs, opportunities and challenges that impact the City, County and State
An opportunity for participants to meet and exchange ideas with each other and with current community leaders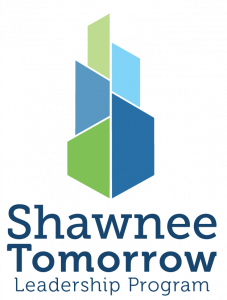 From February through June, class members participate in educational sessions, tours, and candid conversations with community and area leaders. Shawnee Tomorrow's topics include education,  health care, business development, regionalism, city, county, and state government.
This highly renowned leadership training program is designed to equip individuals that live or work within the Shawnee area with leadership tools and an understanding of the issues facing the area. The program consists of nine class sessions, each devoted to a specific theme important to our community. Upon completion of the program, participants will have had the opportunity to gain in-depth knowledge of the community and the critical issues.
More than 400 individuals have graduated from the program with many serving the community in various elected positions in the city, county and state along with boards and appointed committees of the community.
Nominations for the Shawnee Tomorrow Class of 2023
The Shawnee Chamber of Commerce is accepting nominations for the 2023 class of Shawnee Tomorrow. All nominations forms are due to the Chamber office by 5 PM on Wednesday September 28th, 2022. After that date application forms will be emailed to all nominees. Nominees will have until Friday October 28th, 2022 to apply to participate in the 2023 program. Class members are selected based on their written applications showing their leadership ability or potential ability, along with evidence of a strong commitment to the community. The Shawnee Tomorrow Class of 2023 will be announced on or before December 5th, 2022.
To nominate someone (or yourself) click here.
Shawnee Tomorrow Alumni
If you are an alum of Shawnee Tomorrow, please stay in touch by letting us know where you are and what you've been doing since your Shawnee Tomorrow Graduation.
Click here to update your contact information.
What alumni say about STL:
"I loved learning so many interesting tidbits…how the mill levy is calculated, where the geographic center of the city actually is, how massive and detailed the city's budget is, etc. Most of all though, it was great having access to current city employees to hear their perspective on existing and future issues. It changed my views on a number of important topics."
Jason A. Keeler
Class of 2020 (the COVID class)
"The Shawnee Tomorrow Leadership program has been an experience that has allowed me to essentially "peek behind the curtain" of what takes place in the government roles of Shawnee, Johnson County and the state of Kansas and has introduced to me a plethora of leadership positions within these groups.  The program has granted me the opportunity to foster relationships with other leaders in the Shawnee community and beyond our town's borders."
Brian Roth
Class of 2019
Senior Project Manager – McCownGordon
"It was a privilege to be included in the Shawnee Tomorrow Leadership. It opened my eyes up to all the different programs, services and organizations that make our community great. Shawnee Tomorrow is also an excellent networking opportunity. I was able to build relationships with my classmates and with others in the community that are already helping me in my job.  The bond you develop with your class is pretty awesome." 
Julie Breithaupt
Class of 2017
Communications Manager  – City of Shawnee
2022 Shawnee Tomorrow Leadership Class
Nick Adams, HCA Midwest Health
Jim Baker, Shawnee Police Department
Mark Biesma, Turner Construction
Kaleigh Calkins, Intrust Bank
Chris Catron, JE Dunn Construction
Weston Elder, AdventHealth
Brian Fairchild, Olsson
Logan Gasper, Baker Group M&A
Tanner Gassman, TriRx Pharmaceutical Services
Steve Hauck, City of Shawnee
Charity Herrman, Central Bank
Kellie Little, City of Shawnee
Stephanie Makalous, CrossFirst Bank
Melissa McDonald, PBI-Gordon Corporation
Dr. Cindy Swartz, USD 232
Stacey Walter, Columbia Capital Management
Amy Wilcox, Country Club Bank
Teagan Winger, Amos Family Funeral Home
Jennifer Young, NextHome Gadwood Group