Shawnee Tomorrow is a community leadership development program with a goal to continuously develop individuals with the willingness, desire and capabilities to assume leadership roles within the Shawnee community, Johnson County and the State of Kansas and beyond.
Originally started by the Chamber in 1989, the program provides:
A unique opportunity to gain access to top business, civic and community leaders who play integral roles in the region
A behind-the-scenes view of the processes, programs, opportunities and challenges that impact the City, County and State
An opportunity for participants to meet and exchange ideas with each other and with current community leaders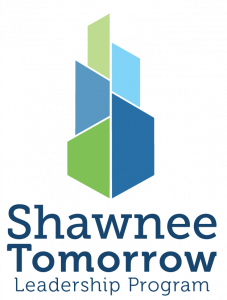 From January through June, class members participate in educational sessions, tours, and candid conversations with community and area leaders. Shawnee Tomorrow's topics include education,  health care, business development, regionalism, city, county, and state government.
This highly renowned leadership training program is designed to equip individuals that live or work within the Shawnee area with leadership tools and an understanding of the issues facing the area. The program consists of ten class sessions, each devoted to a specific theme important to our community. Upon completion of the program, participants will have had the opportunity to gain in-depth knowledge of the community and the critical issues.
More than 435 individuals have graduated from the program with many serving the community in various elected positions in the city, county and state along with boards and appointed committees of the community.
Develop As A Leader
This highly regarded program, created in 1989, is designed to offer our leaders of tomorrow a behind-the-scenes look of the critical issues and challenges facing Shawnee and the broader community.
This purpose-driven program creates an awareness, appreciation and a call to action for our community. Program graduates are equipped with the knowledge and the network to assume leadership roles within the Shawnee community, Johnson County, the sate of Kansas and beyond.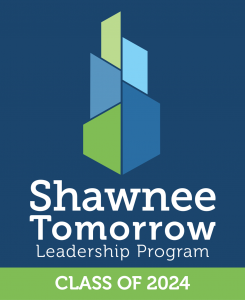 Class of 2024 Sessions
8 am - 5 pm (unless otherwise noted)
Dates TBD
Session 1 | Orientation/Team Building
Session 2 | City Government Day
Session 3 | State Govenment Day
Session 4 | Education Day
Session 5 | Leadership Check-In
Session 6 | County Day
Session 7 | Regionalism Day
Session 8 | Quality of Life Day
Session 9 | Health & Social Issues Day
Session 10 | Program Wrap-Up/Graduation
Community Project - TBD by class participants
Required outside-class assignment: attend one (1) civic or city council meeting.
Make The Commitment
The Shawnee Tomorrow Leadership Program runs from January to June with 10 sessions. Session times will vary, and are scheduled during the week. A special group project and class assignments may require time outside of the workday. A commitment to 100% attendance (unless otherwise approved) is expected from all participants in order to graduate. Sessions are designed to be interactive and stimulation. Participants will be introduced to leaders within each field, creating an awareness for sources of information, materials and individuals key to the community. On-site visits, small-group discussions, and leadership-development strategies will be utilized. The curriculum is designed to inspire analysis, inquiry and explore public-policy alternatives of current community issues.
Act Now: Nominate Today
Contact the Shawnee Chamber, 913-631-6545 or email Amy Niemann at aniemann@shawnee-edc.com to nominate an individual. Nominations are accepted until September 28th, 2023.
The program tuition is $1,100 for members, $1,400 for non-members which covers program expenses and materials.
Shawnee Tomorrow Alumni
If you are an alum of Shawnee Tomorrow, please stay in touch by letting us know where you are and what you've been doing since your Shawnee Tomorrow Graduation.
Click here to update your contact information.
What alumni say about STL:
"I was thrilled when I found out that I was selected to be part of the Shawnee Tomorrow Leadership class for 2023 and I learned more than I could have imagined. As a business leader and as someone who has been involved in local politics, what I learned throughout the course of this program was invaluable and will help guide me through my career and political aspirations. The access that we had to local leaders throughout Shawnee, Johnson County and the State of Kansas was an incredible experience, and the bond that my classmates and I formed over the 6-month program will be long lasting. I cannot recommend this program enough!"
Eric Persson
Class of 2023
"The Shawnee Tomorrow program was a wonderful experience! With different days focusing on different topics there is something for everyone to gain. Not only is Shawnee Tomorrow a great way to learn more about community you live or work in, it is a great way to make connections. My Shawnee Tomorrow class introduced me to peers who are now friends in other industries that I would likely have never met if not for the program. My time in Shawnee Tomorrow has inspired me to take a more active role in the community that I am a part of and raising my family in. I would highly recommend Shawnee Tomorrow to anyone interested in getting more involved!"
Weston Elder
Class of 2022
Director of Consumer Experience Center, AdventHealth Mid-America 
"It was such a privilege to be able to participate in the 2023 Shawnee Tomorrow Leadership program! Amy Niemann did a phenomenal job of leveraging the relationships that have been made through the Shawnee Chamber to develop a truly impactful view of our community. While leadership is the driving force, knowledge, service, and connection are the tributaries. Pairing the quality content with the ability to forge relationships with other engaged members of the community, I left feeling inspired, educated, and so grateful for this experience!"
Jamie Greer, SHRM-SCP  
Class of 2023
Sr HR Generalist  – City of Shawnee
2023 Shawnee Tomorrow Leadership Class
Nik Bergstrom, JE Dunn Construction
Eryn Clark, Amos Family Funeral Home
Katie Clements, McCown Gordon
Brett Collins, Nabholz Construction Corporation
Chris DiMaso, Shawnee Chamber of Commerce
Lauren Grashoff, City of Shawnee
Jamie Greer, City of Shawnee
Rachel Haynes, Johnson County Community College
Hedi Heinz, Turner Construction
Michael McKinne, High Touch Technologies
Patrick Moltane, Keller Williams Legacy Partners
Jenalea Myers, Servaes Brewing Co.
Christy Orach, PBI Gordon/PRN Pharmacal
Jason Osborne, Rosemann & Associates, P.C.
Eric Persson, Paynada
Rick Potter, City of Shawnee
Lisa Rheuport, TriRx Pharmaceutical Services
Seth Seely, Central Bank of the Midwest
Robin Symes, Johnson County, Kansas
Zach Tincher, McAnany Construction