Visit Shawnee is a division of the Shawnee Chamber of Commerce and serves as the official Destination Marketing Organization for the City of Shawnee. It hosts a hospitality and information tent at all the major events and celebrations held throughout the year and works routinely with regional sports tournaments happening in Shawnee, Kansas.
Its website www.visitshawneeks.com serves as the primary resource for visitor information and requests generated through it as a point of fulfillment for relocation and visitor resources. It also produces an annual Visitor's Guide and Shawnee Map in partnership with publisher Sunflower Magazine.
Additionally Visit Shawnee celebrates its local tourism leaders and service members. Each year it awards two Visit Shawnee Tourism Awards, the Shawnee Friendly Service Award and the Good Starts Here Award, for exemplary acts of local tourism and hospitality.
Visit Shawnee places a high emphasis on partnerships and co-op marketing efforts with both state and regional tourism agencies and alliances to meet objectives.
The Visit Shawnee staff is ready and able to assist your visitor information requests, sports tournament planning needs, and more! Beth Ansell leads Visit Shawnee as its Executive Director and serves as the primary point of contact. As a division of the Shawnee Chamber of Commerce, Visit Shawnee does utilize the Chambers staff for varying needs and Ann Smith-Tate and Chris DiMaso also serve as secondary contacts.
The Visit Shawnee Advisory Committee is composed of representatives from hospitality-related businesses, city government, and attractions to promote tourism of the Shawnee area. This includes Shawnee's hotels, attractions, restaurants, and related businesses, to make a positive economic impact in the community. Appointments to the Visit Shawnee Advisory Committee come as recommendations from the Visit Shawnee Advisory Committee for appointment by the Mayor of Shawnee and approval by the Governing Body.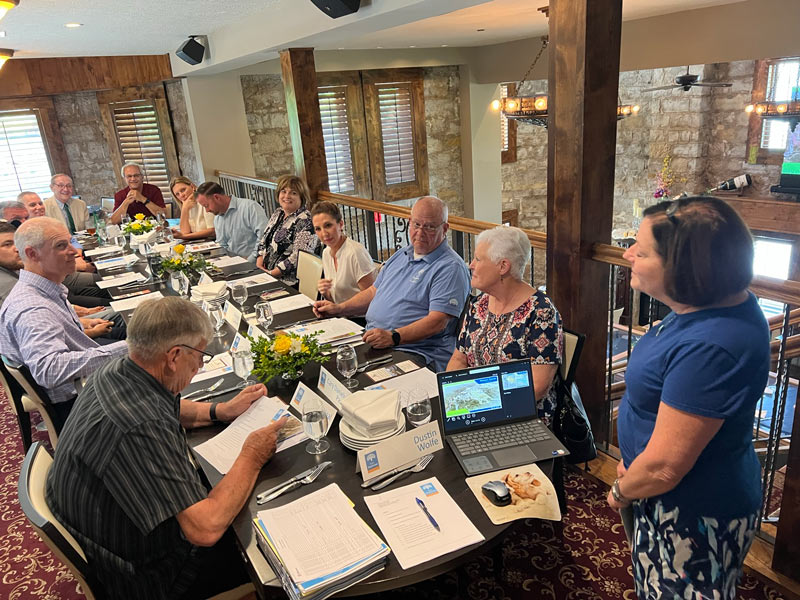 Advisory Committee Members
Mike McVey - Chair
Transport Brewery
Kevin Bundy- Vice Chair
Courtyard by Marriott
Kevin Tubbesing - Shawnee Chamber Board Chair
The Land Source
Brett Anderson
Hampton Inn
Beth Ansell
Visit Shawnee
Stacey Bienhoff
Old Shawnee Days Society
Jill Chalfie
Shawnee City Council
Michelle Distler
Shawnee Mayor
Caitlin Gard
Shawnee Deputy City Manager
Mark Hembrey
Hereford House Shawnee
Tonya Lecuru
Shawnee City Parks & Recreation
Dave MacKay
Shawnee Mission Beach Volleyball
Jim Neighbor
Cary Danielson Pandzik
Music Theatre Kansas City
Mickey Sandifer
Sandifer Properties
Neal Sawyer
Rebuilding Together Shawnee
Courtney Servaes
Servaes Brewing Company
Ann Smith-Tate
President | CEO, Shawnee Chamber of Commerce
Jeff Stewart
Johnson County Parks & Recreation
Staci Strathman
Nick and Jake's
Tammy Thomas
Shawnee City Council
Alvina Young
Aztec Shawnee Theater