How to Spend the Holidays in Shawnee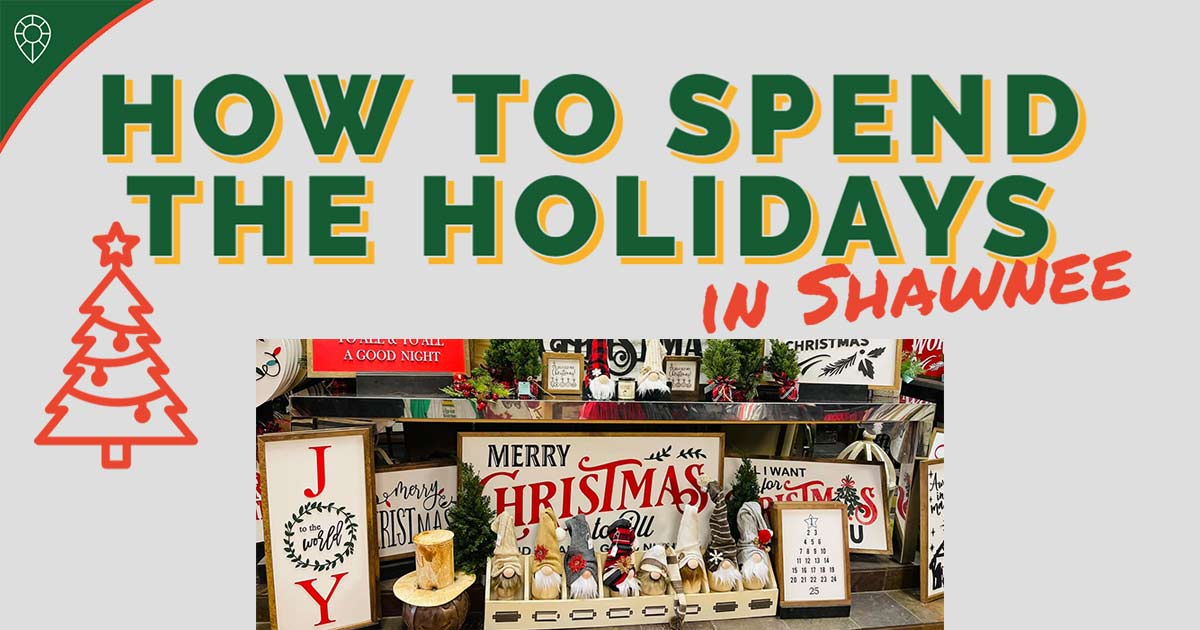 It's the most wonderful time of the year! Snowflakes falling, twinkle lights everywhere, the warm smell of holiday spice, and lots and lots of cheer in the air all make for a perfect holiday season.
Luckily, Shawnee is no stranger to celebrating the holidays! So, we've compiled a list of 9 different ways to make the most of this season with friends and family all in our beautiful and fun community. Check out suggestions for activities, businesses to explore, and much more all in this list.
Are we missing something for your Shawnee business or organization? Send us a Facebook message and we'll do our best to help spread the word!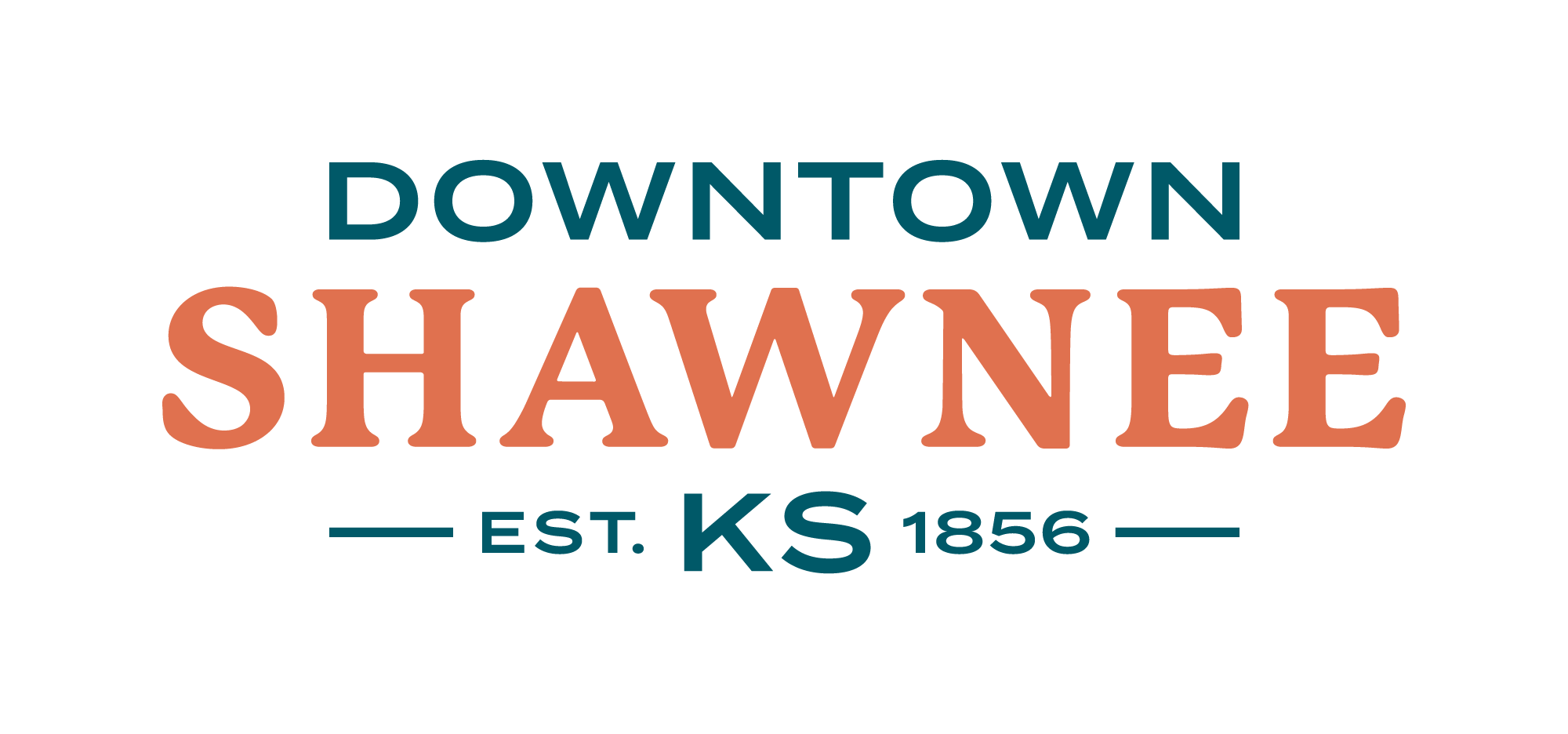 1. Participate in Downtown Shawnee's 12 Days of Christmas
Follow along on their Instagram and Facebook for a chance to win prizes! 
Soon Downtown Shawnee will be kicking off its 12 Days of Christmas promotion! This special contest and the campaign will be giving away 12 $50 gift cards to Downtown Shawnee businesses to lucky winners who follow, like, and share any of Downtown Shawnee's posts over their 12 different 12 Days of Downtown Shawnee Christmas contest period!
Each post will also have a suggestion of how you can make the most of the holiday season in the heart of our city along Nieman Road and Johnson Drive. You can follow along on their Facebook and Instagram pages linked here.
Visit the Castle for the Perfect Holiday Meal! 
The historic Caenen Castle, which now boasts the restaurant Wandering Vine at the Castle will be decorated up for the holidays! Stop in for one of their delicious lunches or dinners and make sure to try one of their many different wines available for selection. In fact, they are even releasing their own Spanish-themed wine in the coming days that they have produced in partnership with Kansas' Grace Hill Winery just in time for the holidays. 
They'll also be hosting two special dinners on December 1st and then again on December 2nd to kick off the holiday month. December 1st will be an exclusive benefit for the Shawnee Mayor's Christmas Tree and December 2nd will be a Spanish-specific menu to help release their Noiret with Tempranillo  "KWest."
If you miss these special dinners, it still makes for the perfect date night out!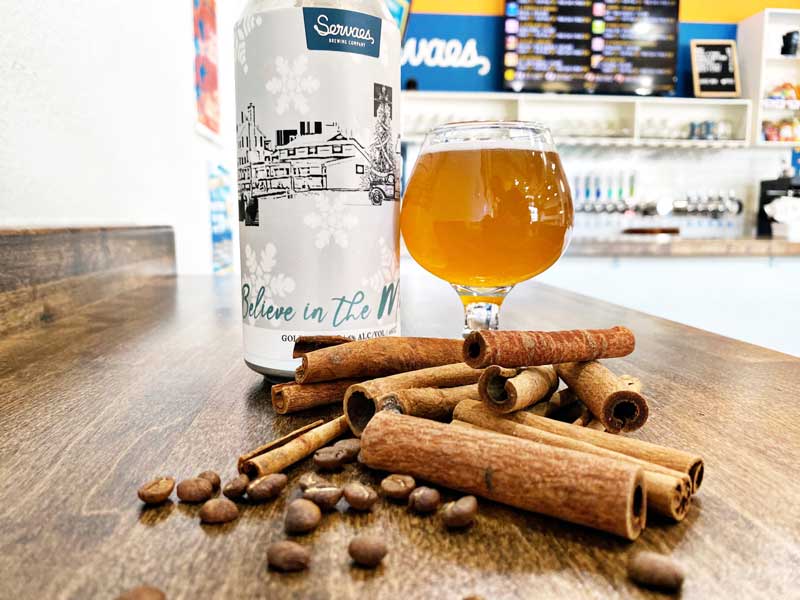 3. "Believe in the Magic" and Other Great Brews
Perfect for the craft beer enthusiasts! 
For those who love to try the multitude of flavors of new craft brews, Servaes Brewing Co. created their new "Believe in the Magic" in a partnership with the Shawnee Mayor's Christmas Tree Fund. Purchases of this special Sour style beer featuring coffee, vanilla, and cinnamon sticks also will go towards the special Fund, which benefits Shawnee Community Services and Shawnee Storm.
Fans of craft beer who just can't get enough at one brewery can also walk down the street to Transport Brewery also located in Downtown Shawnee, as they'll be releasing their own "Liquid Sweater Annual Winter Warmer Beer"  in mid-December. Or you can make your way to 75th Street less than 5 minutes away to visit Pathlight Brewing, which is certain to release its own holiday-themed beers.
Barley's Kitchen + Tap full restaurant and Stanley Station Wine and Spirits liquor store also make for great locations to scratch the craft beer itch in Shawnee.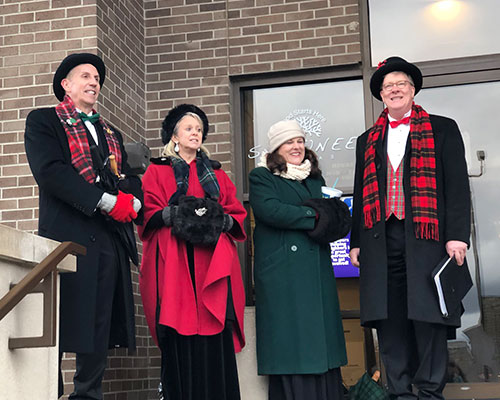 4. Experience Shawnee's Own Christkindlmarkt
It's like a trip abroad! 
Gather with your family and friends in Downtown Shawnee on Saturday, December 4th for Christkindlmarkt! This free event themed after European Christkindlmarkt's starts at 3:00pm at City Hall with live entertainment, kids' crafts and a visit from Santa and Mrs. Claus. Stroll through the Downtown Shawnee businesses and enjoy holiday activities, carolers, face painting, balloon artists, and live reindeer.
Plus, join Mayor Michelle Distler, Santa, and Mrs. Claus at 5:30pm at City Hall for the official presentation of the Mayor's Christmas Tree Fund to this year's recipients Shawnee Community Services and our local Special Olympics team, the Shawnee Storm.
The evening will come to a close with the lighting special the Mayor's Christmas Tree! If you miss Christkindlmarkt, you can still marvel at the ginormous Mayor's Christmas Tree all holiday season long in the City Hall parking lot.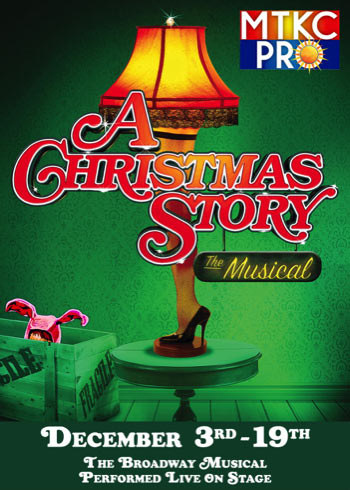 5. Take in a Holiday Show
Shawnee's own live music theater experience! 
This holiday season Music Theatre Kansas City invites you to see your favorite holiday movie come to life LIVE ON STAGE, with "A Christmas Story, The Musical!"
A kooky leg lamp, outrageous pink bunny pajamas, a maniacal department store Santa, and a double-dog-dare to lick a freezing flagpole are just a few of the distractions that stand between young Ralphie and his ultimate Christmas wish. Featuring a live on-stage orchestra and music by the writers of The Greatest Showman, La La Land and Dear Evan Hansen!
A Christmas Story, The Musical runs December 3rd-19th.  Tickets are $25 Adult, $15 Student, and $12 for children. All performances are hosted at the B&B Shawnee Movie Theater on Midland Drive. Order tickets here.
6. Shop the Local Boutiques
Support small businesses and check off that holiday shopping list! 
Shop local this holiday season at one of Shawnee's boutiques. Embellish Boutique, Pink Charming, I Heart Local, ShananiGanns, By B Boutique, Family Tree Nursery, and The Doll Cradle offer a great selection of gifts including clothing, home décor, accessories, team sports gear, dolls and doll clothes.  Skip worrying about delivery times this year and stop by one of these great locally owned boutique stores.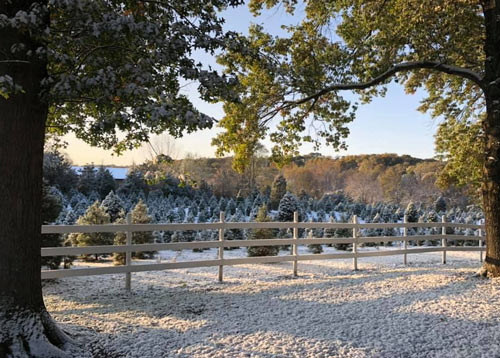 7. Visit a Christmas Tree Farm
Yes, Shawnee has its own spot to pick up your all-natural Christmas tree! 
Midland Holiday Pines (18541 Midland Drive Shawnee, KS 66218) has been a tradition of many local families since they opened in 2002. They grow Scotch Pine, Austrian Pine, Fraser Firs, Balsam Firs, and White Pines. You are welcome to cut your own tree, or they can cut one for you.
Midland Holiday Pines opens the Friday after Thanksgiving and remains open on weekends from 10am - 5pm until the end of the season. Visit their gift shop for Pine and Fraser Fir Christmas wreaths which are made and decorated at the farm.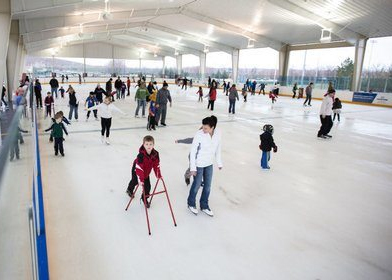 Perfect for both beginners and the experienced! 
Get in the holiday spirit with an afternoon of ice skating at KC Ice Center. Public skating sessions are scheduled throughout the week and on the weekends on the outdoor rink from November until March. Skate rental and concessions are available. Public skate sessions are subject to change so please check their schedule before you arrive.
9. Give Back This Holiday Season
Help those who need it most so they can also have a wonderful Christmas! 
The Johnson County Christmas Bureau's mission is to provide neighbors an opportunity to help neighbors. The Christmas Bureau's Holiday Shop and the Nursing Home programs are the two programs that fulfill their mission of providing warmth and support to low-income neighbors. Consider donating an item to these organizations!
In addition to working at the Holiday Shop, they have a number of volunteer opportunities available year-round.  Check their website to see how you can volunteer today.
Another great volunteering location is the local Shawnee Community Services. Serving as the beneficiary of the Mayor's Christmas Tree Fund, this food pantry, and free clothing resource has served the entire KC metro since 1982. They also take item donations and can use volunteers this holiday season!